Qualinet Dinner
Tuesday, May 30, 2017, 19:00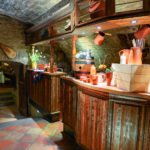 Join COST-Action Qualinet members for a dinner at the unique medieval restaurant Lutherkeller. Enjoy local food and the charme of a 16th-century building. Tickets are limited – make sure to select the offer while registering for QoMEX!
Lutherkeller
Futterstraße 15/16
99084 Erfurt
Deutschland
---
Welcome Reception
Wednesday, May 31, 2017, 19:00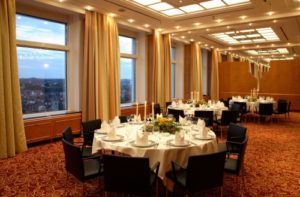 The Welcome Reception will take place at the Panorama Floor in the Radisson Blue Hotel Erfurt. Spend a joint evening with QoMEX attendees, overlooking the City of Erfurt in full. You may especially enjoy the view of the Erfurt Cathedral and the Citadel. Thuringian fingerfood and drinks will be served during the reception.
Radisson Blu Hotel
Juri-Gagarin-Ring 127
99084 Erfurt
Deutschland
---
Conference Banquet
Thursday, June 1, 2017, 19:30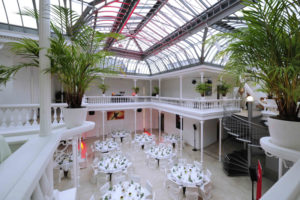 All participants are cordially invited to experience a special location for the Conference Banquet. The Palm House in Erfurt is located in the city center close to the Anger. Retaining the elegance of its 19th century architecture, the building has been converted into a first-class venue for conferences and exclusive events. A sumptuous interior extends upwards to the historical glass-domed roof where underneath we will be enjoying a delicious buffet and music.
During the banquet, we will also hold the awards ceremony and present the hosts of future QoMEX editions.
Palmenhaus Erfurt
Schlösserstraße 10
99084 Erfurt
Deutschland
Please note that drinks are complimentary and are being provided for the whole evening, up to a certain total amount. If this amount is exceeded, participants are asked to pay for any additional drinks they may want to order. Payment is possible only in cash; several ATMs are available close to the venue.