Radisson Blu Hotel Erfurt
The Radisson Blu H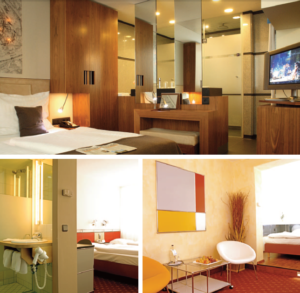 otel Erfurt combines conference location and accommodation. Please head to the bottom for more information about booking a room and hotel contact details.
The hotel provides 282 comfortably furnished rooms and suites — with breathtaking views over the beautiful old town and the comforts of a 4 star hotel — as well as 11 conference and rooms offering you a convenient stay in the heart of Germany. The second tallest building in Erfurt offers an incomparable view of Erfurt cathedral, citadel and the crooked roofs of old town's half-timbered houses.
Hotel address
Radisson Blu Hotel Erfurt
Juri-Gagarin-Ring 127
99084 Erfurt
Germany
T: +49 361 55100
F: +49 361 5510210
info@radisson-erfurt.com
Booking a hotel room
A block of rooms has been reserved for the conference period:
Standard Single Room (per night, incl. breakfast & taxes) 105.00 €
Superior Class Room (per night, incl. breakfast & taxes) 115.00 €
Business Class Room (per night, incl. breakfast & taxes) 125.00 €
Double Rooms are also available. A surcharge of 25.00 € (per night) will apply.
In order to arrange your stay, please reserve your room with the keyword "QoMEX 2017" until May 5, 2017 with the hotel directly:
All bookings will be handled by the hotel on a first come first served basis.
Other Accommodation Options
In case you prefer other alternatives, Erfurt offers plenty of other places, e.g. hotels, guest houses, private rooms and holiday apartments or hostels to stay. Many of them are located close and provide an easy access to the conference site.