Thomas Wallner
Founder, CEO, DEEP Inc. / Liquid Cinema Inc.
In his talk, Thomas Wallner will explore the challenges and opportunities of using VR in a cinema context. In a medium that breaks the fourth wall, where traditional film language seems to no longer apply, the overarching question is how to create truly emotionally engaging stories. Is VR the inevitable evolution of film or does this medium mark a departure from conventional cinema and require an entirely new visual language? Wallner will discuss the unique attributes of VR, how they fundamentally differ from conventional film and how this affects the storytelling process.
About Thomas Wallner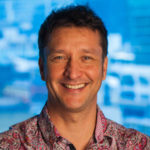 Thomas Wallner is an Emmy award winning producer, writer, and director working in film and interactive media. In addition to producing many innovative cross-media properties for television, he has written and directed eight award-winning feature documentaries.
Thomas Wallner is a rare example of a creative filmmaker who is truly at home in the interactive media world. Over the past ten years Thomas has consistently applied his award winning vision as a storyteller to push the limits of interactive narrative.
He is the founder of DEEP, a German and Canadian based studio dedicated to exploring and defining the evolving language of cinematic VR.
To meet this exciting challenge, DEEP has developed LIQUID CINEMA, a software platform and toolset that allows filmmakers, producers and broadcasters to create and distribute story based 360 and VR content across the web, mobile and VR devices.
Thomas is a recipient of numerous honours including two Emmy Awards with a total of five nominations, three Geminis, a Rose d'Or, two SXSW Interactive Awards, two Webbys and two CNMA's.